The National Database and Registration Authority (Nadra) has launched a 'Qaumi Tasdeeq-o-Tajdeed Campaign' (QTTC), a new system for verification of the family members.
According to the Nadra spokesman, under the QTTC, the family members can be verified from the registered mobile number in Nadra through a SMS "13 digit CNIC No Space at "8009".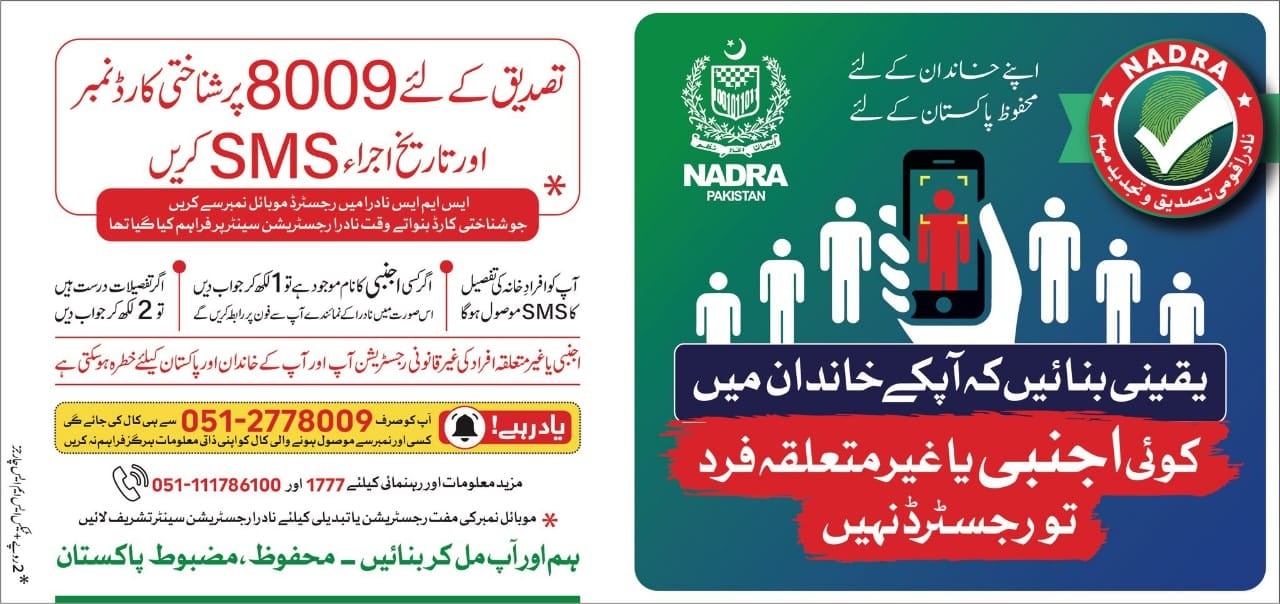 In response, you will receive details of your family members. If any information is incorrect or the name of an intruder or unrelated person is included in the family members, write "1" in reply to inform the Nadra. A representative of the Nadra will contact you in this regard from help line 051-2778009. If all the information is found correct, write "2" in reply, to confirm the correct information to the Nadra.
In order to avail the verification and renewal service, it is necessary to register a SMS with Nadra from the same mobile number which was provided at the Nadra registration centre while processing the ID card or "B" form. If your mobile number is not registered with the Nadra, you can visit any Nadra centre for the registration or change of mobile number. This facility is provided free of cost at all the Nadra registration centres.
Nadra Family Verification System | 8009 | Nadra Online Check 8009 | Nadra 8009 Sms Service | Nadra |