Zong Tax Certificate
Each network of Pakistan has launched e-care, tech app, SMS and WhatsApp services to download tax certificate for required tax period for declaration in annual income tax returns. These all services are free of charge.
Zong has also introduced two different types of methods through which zong tax certificate can be obtained free of charge.
How to get Zong Tax Certificate ?
Yearly tax deductions certificate as evidence of prepaid / post paid users tax paid are now available online and can be easily downloaded to get it declared in their annual income tax returns. Zong tax certificate is easily available by following two ways and can be downloaded in PDF form for further use.
Zong e-care
My Zong App
First method to download zong tax certificate is through zong official web page of zong e-care.
Now enter your zong sim number
enter required characters in the 2nd box
click on the 'log in' box to get access to your account
they will send a code to your number, enter it into next page
then you will be redirected to zong e-care web page automatically
Click on option no 5, which is "usage history"
now enter month/date/year and download zong tax certificate for free
To get a Zong tax certificate, you first need to download/install the My Zong app from the Google Play Store or App Store on your smartphone.
Open My Zong and enter your Zong sim number then a confirmation SMS will be sent to your number which will contain the PIN. Enter the PIN and login.
Click on the Tax Certificate Feature on the My Zong home screen.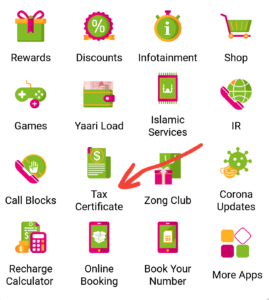 Select the Start and End date then click Download Tax Certificate.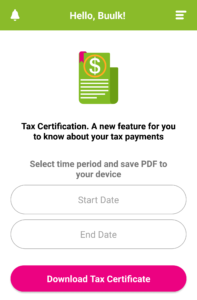 After clicking on the Download tax certificate, the Zong Tax Certificate will be downloaded to the PDF file according to the date you selected. You can then open the PDF file and view the deducted tax and use it anywhere you want.
How to Install My zong App ?
HOW TO INSTALL?
For Android (Android OS 5 & Above is compatible)
Visit Android Play store
Search "My Zong" & install MY ZONG APP
OR
Copy the attached file(Click Here to Download this app)
Copy APK in Phone/Memory card storage.
Access APK file from Phone.
Click the file and select Install
Register your Zong number
Sign In and Use the application
For Apple (iOS 8 & Above is compatible.)
Visit Apple APP Store
Search "MY ZONG APP" & install.
Register with your Zong number
Sign In and Use the application
For Huawei APP Gallery (Android OS 5 & Above is compatible)
Visit Huawei APP Gallery
Search "My Zong" & install MY ZONG APP
Register your Zong number
Sign In and Use the application
Zong Tax Certificate 2021 | Zong Tax Deduction Certificate | Zong Withholding Tax Certificate | My Zong App | Zong Tax Statement |